We can all agree that enjoying our motorhomes this year is been extremely challenging to say the least. That is why today we have decided to bring you a top 10 trips to discover Spain in motorhome. Because we don't need to go far to find incredible landscapes and breath a little bit of fresh air.
The Jordá beech forest is spectacular throughout the whole year, however, its best imagine can be found during the fall months. So, if you leave nearby and enjoy going for a hike, don't hesitate to grab your motorhome a get to know this forest taken out of a fairy tale.
If you decide to stay overnight a good option is the motorhome area of Tavertet, which has a total of 10 spots and a fee of 10€ per overnight stay (including water change and electricity). Additionally, the city center of Tavertet has been declared an Asset of Cultural Interest, making this getaway the perfect combination of nature and culture.
GPS COORDINATES:
41.99472   /   2.41583
N 41º 59′ 41» / E 2º 24′ 57»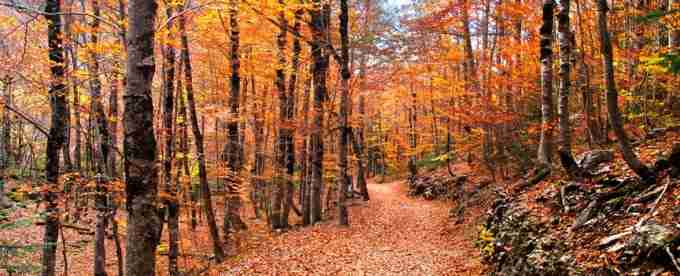 2. Faedo de Ciñera (León)
The second position in our top 10 trips is the Faedo de Ciñera. Did you know that our next stop in today's list has been declared as the best forest in Spain? Yes, Faedo de Ciñera is an incredible beech forest situated in the Montaña Central Leonesa. Here the visitor will be surrounded by one of the best-preserved natural spaces in Spain, so it is worth a visit.
To visit Faedo de Ciñera one can make use of the motorhome area of Boñar, which has a total of 13 parking spots and it's free of use. Additionally, just a few kilometers away one can find the Museum of Fauna Salvaje de Valdehuesa, the sky station of San Isidro, or the caves of Valporquero.
GPS COORDINATES:
42.87278   /   -5.32583
N 42º 52′ 22» / W 5º 19′ 33»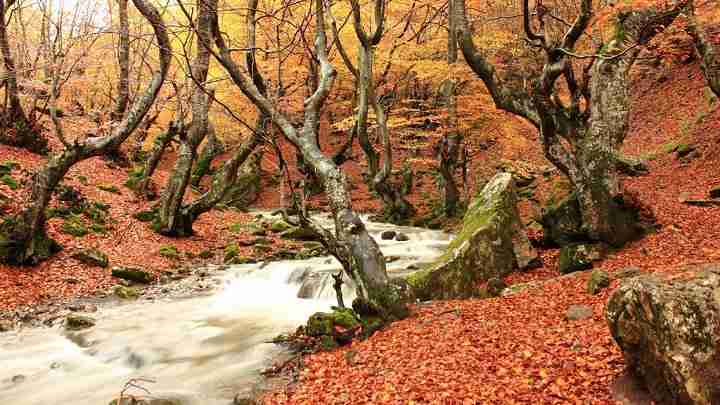 The Natural Park of Gorbeia is a well know spot to enjoy the wonders of fall if you are in the Basque Country. In here the visitor can wander throughout a landscape that has all the shades of green red, and orange. So, grab your hiking boots and go for a little walk in this little piece of heaven on earth.
For those of you who want to experience the Natural Park of Gorbeia, the motorhome area of Leguitanos is the perfect option. A total of 5 parking spots, and located in a recreational area near a reservoir, what else can we ask for.
GPS COORDINATES:
42.96889   /   -2.64806
N 42º 58′ 8» / W 2º 38′ 53»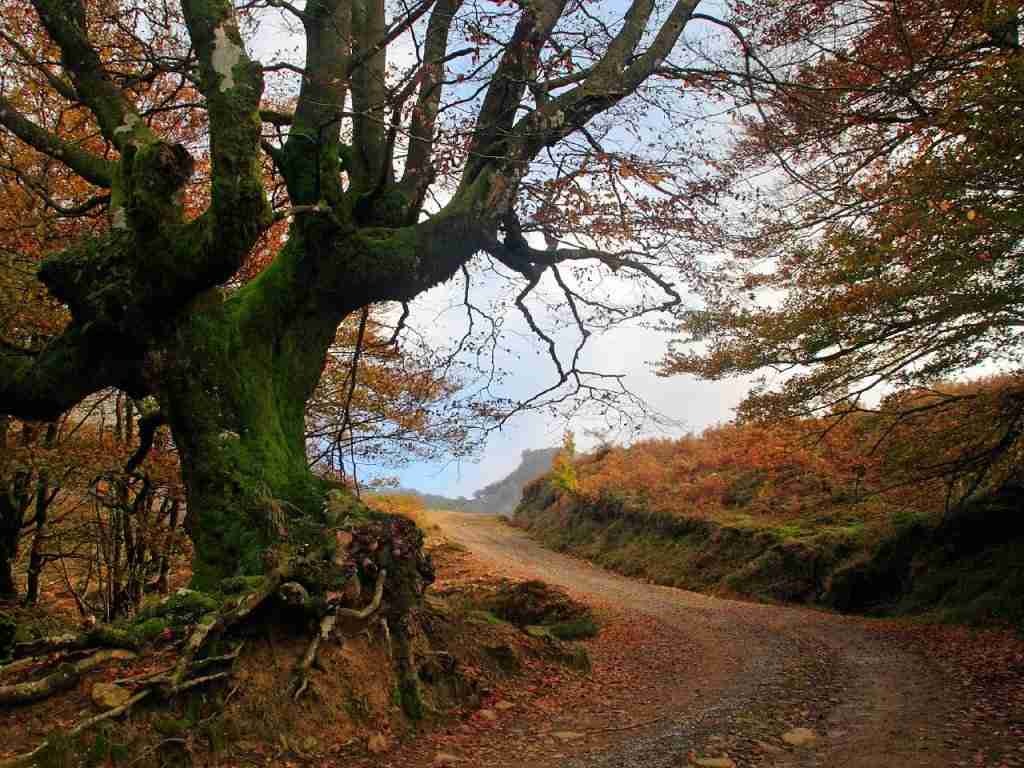 Well, of course, we were going to add a trip to Asturias, and in this case, we have decided to present you the largest oak forest in Spain, the Muniellos forest which has been declared a Natural Reserve by Unesco and is integrated into the Natural Parks of Fuentes del Narcea and Ibias. So if there are any doubts left, the lucky ones that can visit this fantastic natural spot are for an incredible treat. However, we are obliged to remind you that due to its preserved status, one must request permission before visiting it, since only 20 people are allowed per day.
If you have decided to visit this part of heaven on earth you can always make use of the motorhome area of Casa Funsiquín which has a total of 8 spots, and it is free for the bar/shop customers. Additionally, this area is perfectly located since is extremely close to the forest of Gedrez, and the visitor has to option of organizing an excursion to the Monasterio of Hermo or go for the sighting of wild bears.
GPS COORDINATES:
43.01306   /   -6.60861
N 43º 0′ 47» / W 6º 36′ 31»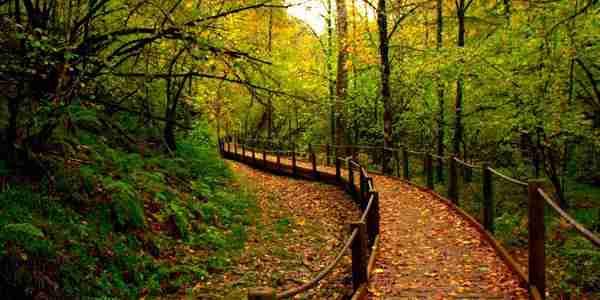 We continue with our top 10 trips with the Arán Valley. Since it is precisely the fall season the time of the year where the Arán Valley acquires its maximum splendor. Since the numerous mountain villages, and the incredible wild nature of this place, will make sure that the visitor lives a memorable rural getaway.
A good option for visiting the zone is spending the night in the motorhome area of Benasque for just 2 € the night. Also, if you decide to repost your fuel tank, and the total amount is over 40€, the services offered in the area are free of charge.
GPS COORDINATES:
42.61222   /   0.52694
N 42º 36′ 44» / E 0º 31′ 37»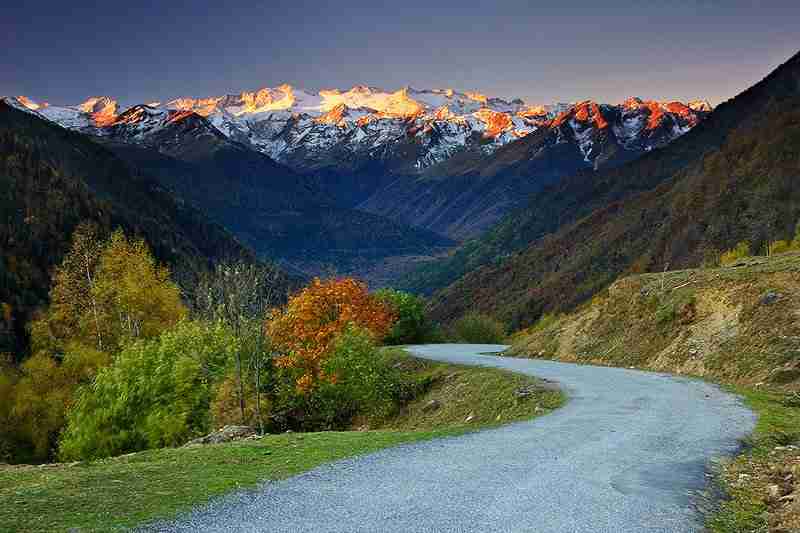 The Sierra del Seguro is one of the most interesting natural spaces of the province. Full of narrow valleys and canyons, offers and unique experience for those adventurers. We highly recommend visiting the viewpoints of Liétor.
For visiting Sierra del Segura we recommend the motorhome area of Úbeda, which is free and has a total of 10 parking spots, a maximum stay of 48 hours. Additionally, the fact that the area is located in a city which has been declared a World Heritage Site, offers the possibility of combining nature, architecture, history, and tradition in just one visit.
GPS COORDINATES:
38.00639   /   -3.37944
N 38º 0′ 23» / W 3º 22′ 46»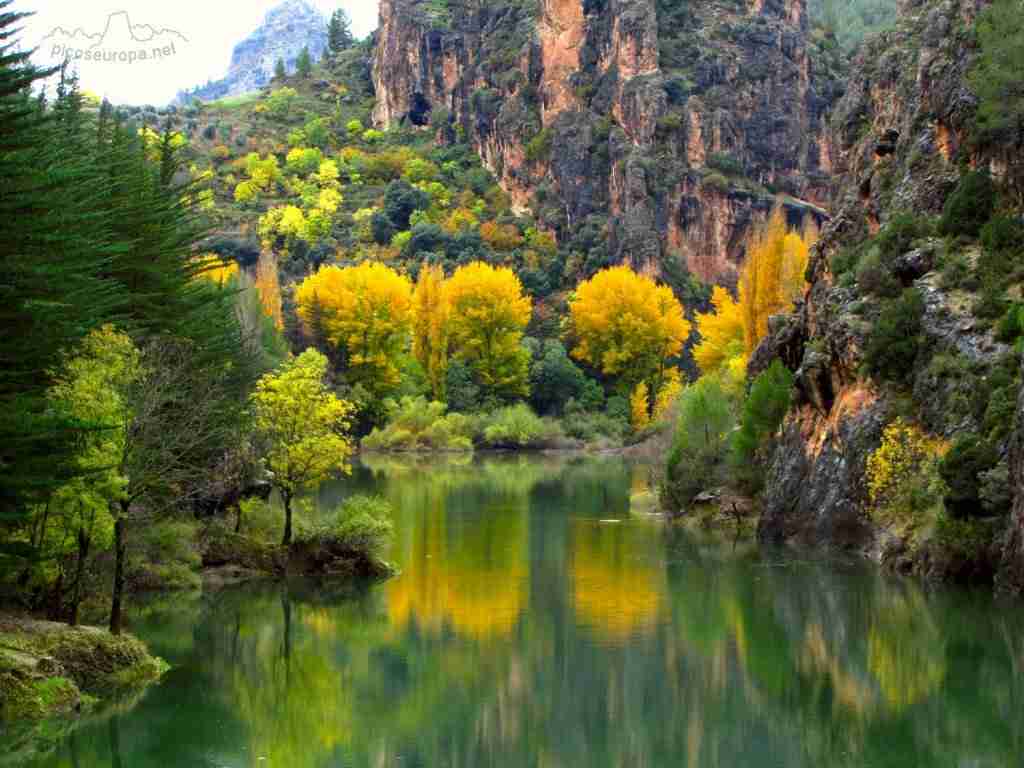 We are almost finishing our top 10 trips, but we still have a few more to go. If you want to visit a beech forest but cannot go to the north of Spain, you always have the option of discovering Tejera Negra, the southernmost beech forest in Europe. Tejera Negra offers its visitor a fairy tale setting that will not disappoint.
In our opinion, the best option is spending the night in the motorhome area of Guadalajara, which is free of use and has a total of 10 parking spots reserved for the motorhome. By staying in this location, you will be able to discover the more rural areas of this part of Spain, without renouncing to visit the old town of Guadalajara
GPS COORDINATES:
40.63611   /   -3.175
N 40º 38′ 10» / W 3º 10′ 30»

The Natural Park of Ordesa and Monteperdido is widely known for the amount of hiking and trekking that it offers opportunities. So if you want to combine some outdoor activities, while enjoying an astonishing Pyrenean landscape, Ordesa was tailor-made for you.
The best alternative for visiting this part of Spain is staying in the motorhome area of Ainsa for 5€ per night and has a total of 20 spots. Additionally, you will be able to visit its medieval village
GPS COORDINATES:
42.41861   /   0.13444
N 42º 25′ 7» / E 0º 8′ 4»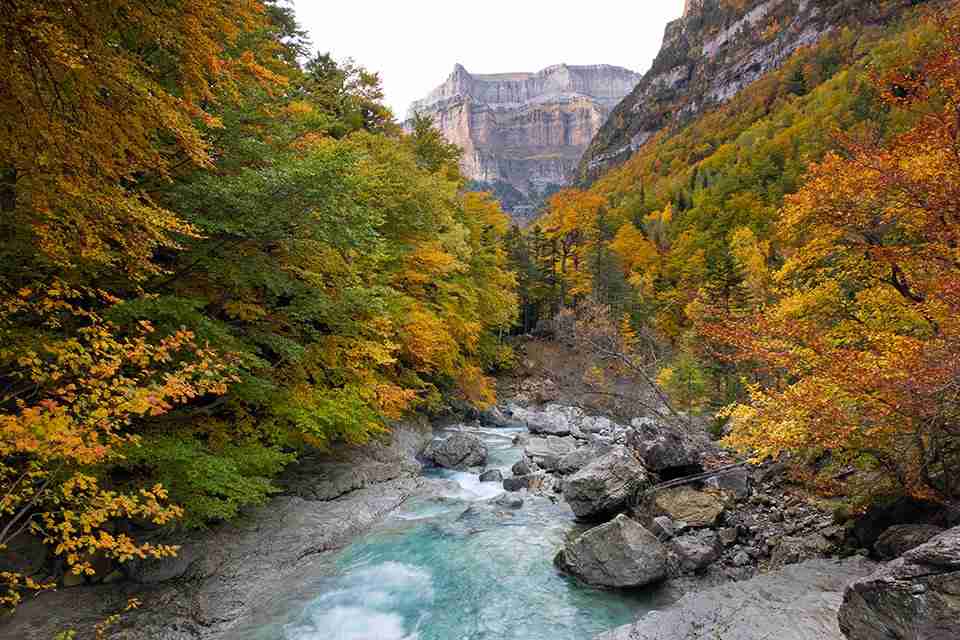 9. Natural Park of Montseny (Cataluña) 
A green spot that is just one hour from Barcelona, what else do you want! Now in all seriousness, the beauty of its landscapes combined with the numerous hiking routes, make this spot the perfect getaway.
If you want to spend the night in this location, we recommend the free motorhome area of Arbúcies. This is perfect for those who want to discover the Natural Park of Montseny, and also plan to visit the Montsoriu castle.
GPS COORDINATES:
41.81417   /   2.52056
N 41º 48′ 51» / E 2º 31′ 14»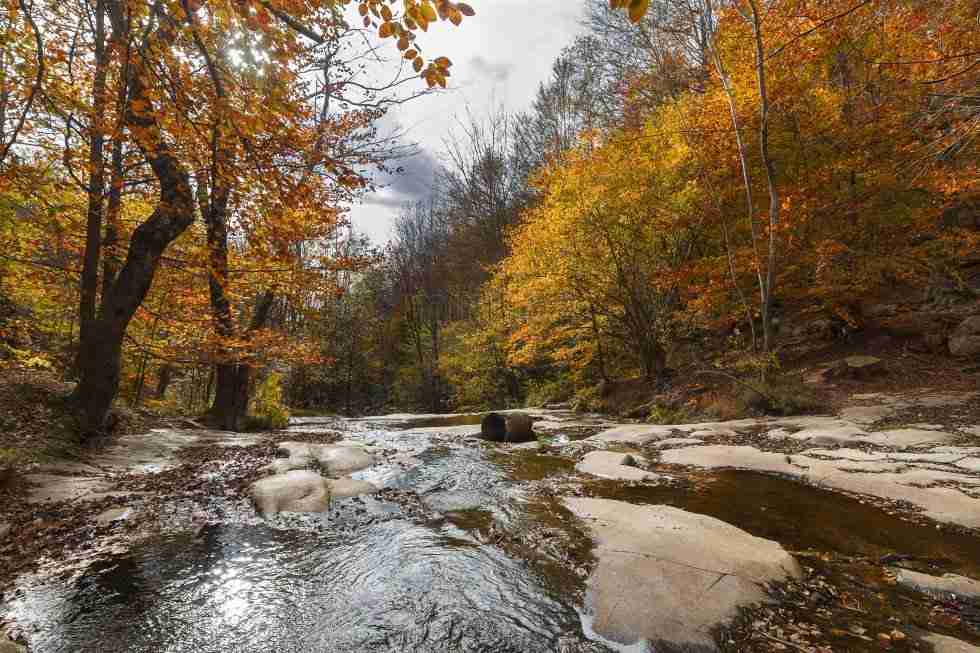 We finish our top 10 trips to discover Spain in motorhome with the largest salt lake in Europe. A place in which there is the possibility of spotting over 220 species of birds, especially if we go during the fall months when they are on their way to the warmer climate of Africa.
A good option for visiting this place is spending the night on the motorhome area of Peñaflor, which has a fee of 15 € per day a total of 150 parking spots. Additionally, the area is a perfect location for those who want to visit the Cartauja de Aula Dei and the Peña del Cuervo.
GPS COORDINATES:
41.72778   /   -0.79194
N 41º 43′ 40» / W 0º 47′ 31»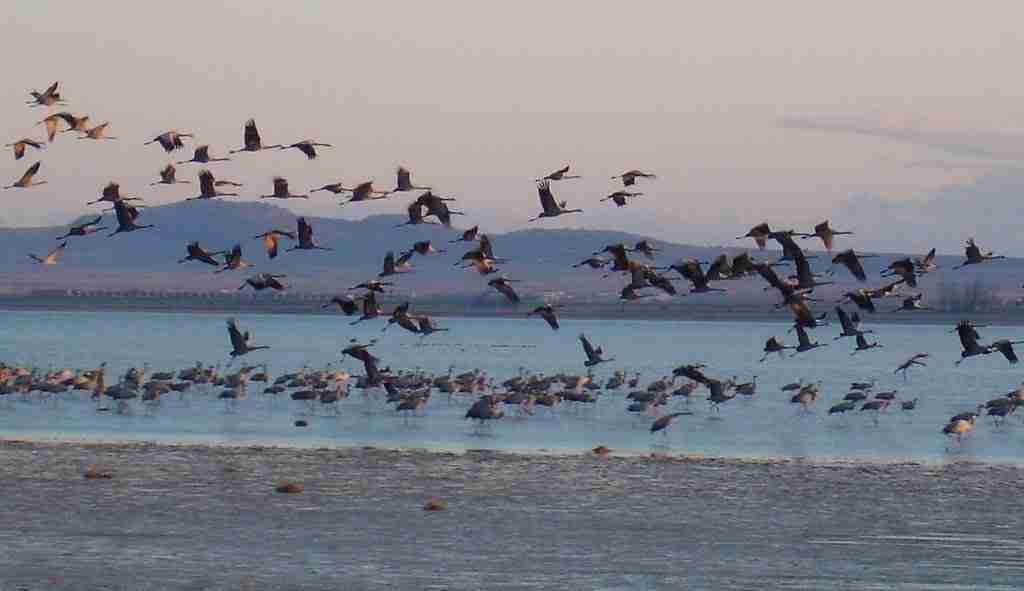 As you might be able to see Spain offers a wide range of landscapes and outdoor activities that allow us to find the perfect trip for everyone. Because we don't need to go far to discover beautiful and breath-taking places. To conclude, in Vicente Velascon Insurance Brokerage we hope you have enjoyed our post, and if you have any recommendations of your own don't forget to leave us a comment.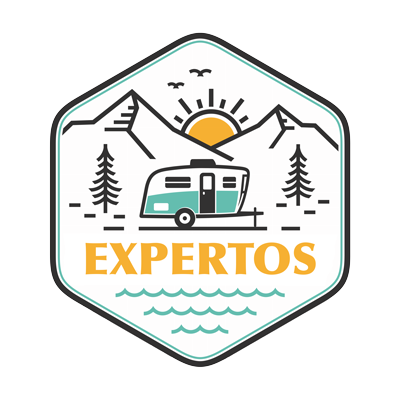 Has llegado a Vicente Velasco correduría de Seguros, especialistas en seguros de autocaravanas, caravanas o campers desde hace más de 20 años.
Trabajamos con las mejores compañías para dar los mejores precios y coberturas que más se adaptan a ti.