Mendering, colourful, and little known, today we bring you 3 motorhome routes that are far from the crowded and typical Spanish cities and villages. Although they may not be the most typical journeys we can assure you that you will be amazed by the experiences that they will bring you. So roll down the windowns and take a deep breath, because you are in for the ride of your life.

1. THE ALT EMPORDÀ IN THE GIRONA REGION
Alt Empordà is protected by the Pyrenees and the Mediterranean sea, and in here you will understand that by getting lost in this region you cannot only find a rich history, colourful landscapes, and lovely locals, but also your true self. All of these and much more will make you fall in love with this part of Spain.
Here are some of the stops that you need to make on this route:
Cadaqués: Situared in the easternmost part of Girona, you will find a village where a sea of white houses ends up in a bay full of traditional fishing boats creating a spectacular image for everyone that decides to visit this little corner of Spain. With scenery like this one, there is no wonder why artists like Pablo Picasso or Joan Miró turned to this place for inspiration. Putting aside the wonderful scenery, the town is also full of little gems, like the parish church of Santa María, or the impressive lighthouse.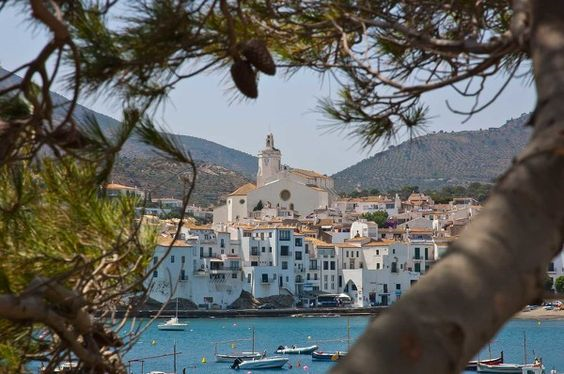 Figueres: If you are a fan of the famous Spanish painter Salvador Dalí you cannot miss this village. Here you can find its particular personality in every little corner, a perfect example is the Theater Museum and the Galatea Tower. Even though Figueres is mainly known by its relationship with the painter, you cannot miss the castle of San Fernando, which was built in 1743 by order of King Fernando VI, by visiting this historical site you will be able to get a deeper knowledge not only about Spanish history but also about the local area.
You can park and spend the night in the free motorhome area of Figueres. It has 10 available parking spots, and it is located to less than a kilometer from the city center.
Google Maps. GPS COORDINATES:
42.26028 / 2.95111
N 42º 15′ 37» / E 02º 57′ 04»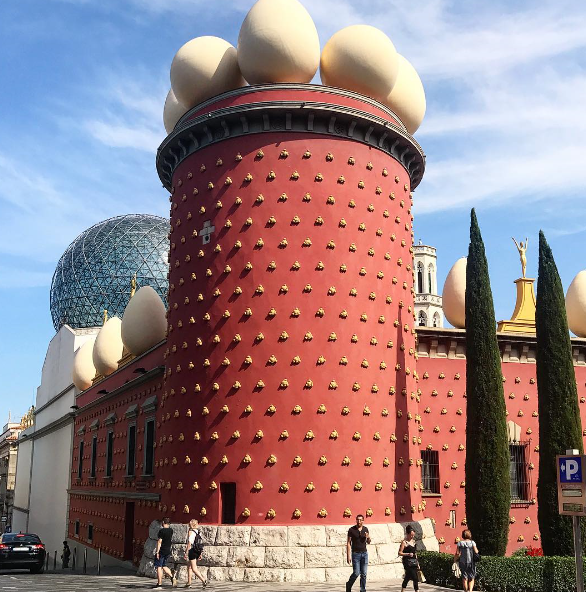 Roses: The almost virgin beaches that spread throughout all this region of Spain create spaces worthy of a visit. But this region has much more to offer to its visitors than just an amazing coastline, a total must is the Citadel of Roses, which today this day contains a perfect example of a medieval town, if you decide to be amazed by this town you cannot miss the Santa Rosa de Puig Rom viewpoint which offers the best panoramic view of the Medes Islands.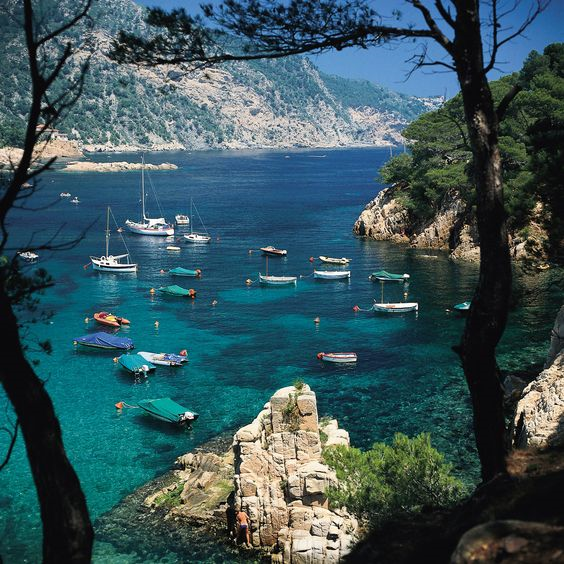 Peralada: Even though the first references to this town date way back to the 500 B.C. the majority of the remaining buildings were constructed during the Middle Ages. Also, you cannot leave this town without visiting its castle, which to this point stills the residency of the counts of Peralada.
Empuriabrava: We can consider this place the Spanish Venice since white houses surround the more than 20 km of navigatable channels.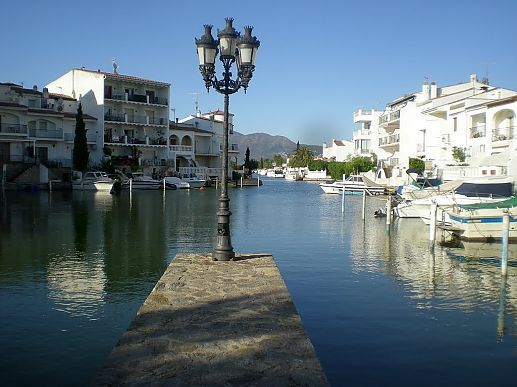 Sant Martí d'Empuries: The beauty of this place lies in its history, in this little village the visitor will found a wonderfully preserved medieval town, which welcomed its first inhabitants from the 9th century B.C. The proximity to the sea and its tranquility make of Sant Martí d'Empuries a paradise in the middle of the Costa Brava.
You can park and spend the night in the free motorhome area of Sant Martí d'Empuries which has 2 available parking spots.
Google Maps. GPS COORDINATES:
42.11417 / 3.12611
N 42º 06′ 51» / E 03º 07′ 34»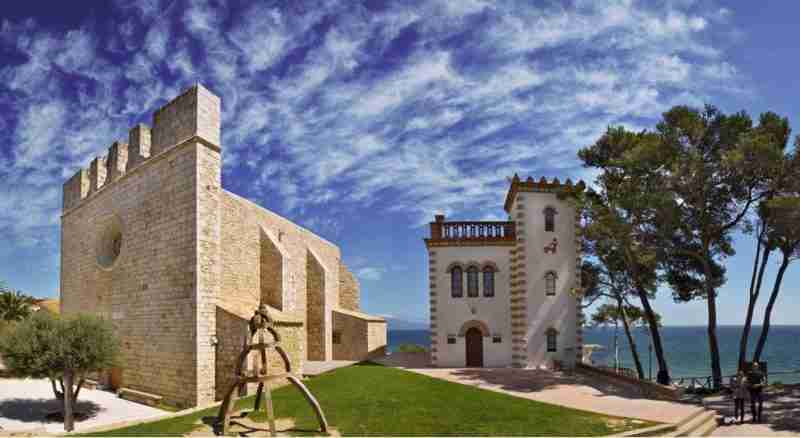 2. COSTA DEL SOL IN MOTORHOME
Its more than 300 days of sunshine all year round, and its 161 kilometers of coastline make it an unbeatable tourist destination worth exploring. Discovering the Mediterranean has never been so easy!
Nerja: This precious coastal town has everything you will ever want, from a beautiful seafront formed by beaches, coves, and cliffs, to a historical city center which brings together modern and traditional architecture.
For visiting Nerja, you can always park and spend the night in its motorhome area, which has 10 parking slots, and a 3€ fee. A trick is to use the nearby gas station to fill up your gas since it will allow you to load and unload by free.
Google Maps. GPS COORDINATES:
36.76194 / -3.88778
N 36º 45′ 43» / W 03º 53′ 16»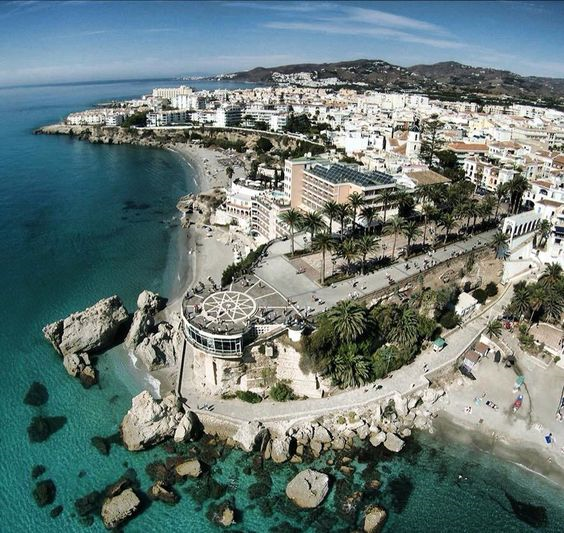 Torrox: We have already mention Torrox in this blog, but its location and Arab origins make it impossible for us to not talk once more about this town. The narrow and steep street designed to protect its inhabitants of the strong Andalusian sun, and are one of the many examples of the Arab heritage of the region. If you decide to visit this place, extremely worth it in our opinion, you cannot miss its necropolis, the thermal baths, and the Roman villa.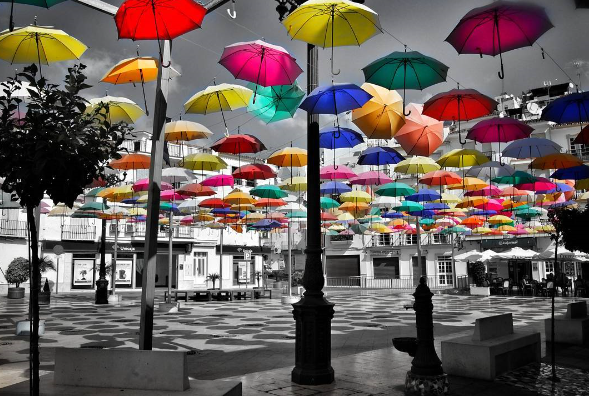 Torremolinos: This town is extremely well-known, but what you probably did not know was that in its origins this was a little fishermen village which with the tourism boom expanded in the populous city that it is today. Nevertheless, one can still find some of the elements of its past, like the neighborhoods of Bajondillo and Carihuela, and the Tower of Pimentel. Also when you decide to visit Torremolinos, you cannot leave without trying one of the most loved dishes of this part of Spain, the traditional "espetos de sardinas", which are sardine skewers, that usually you will eat then in the "chiringuitos", a total Spanish tradition.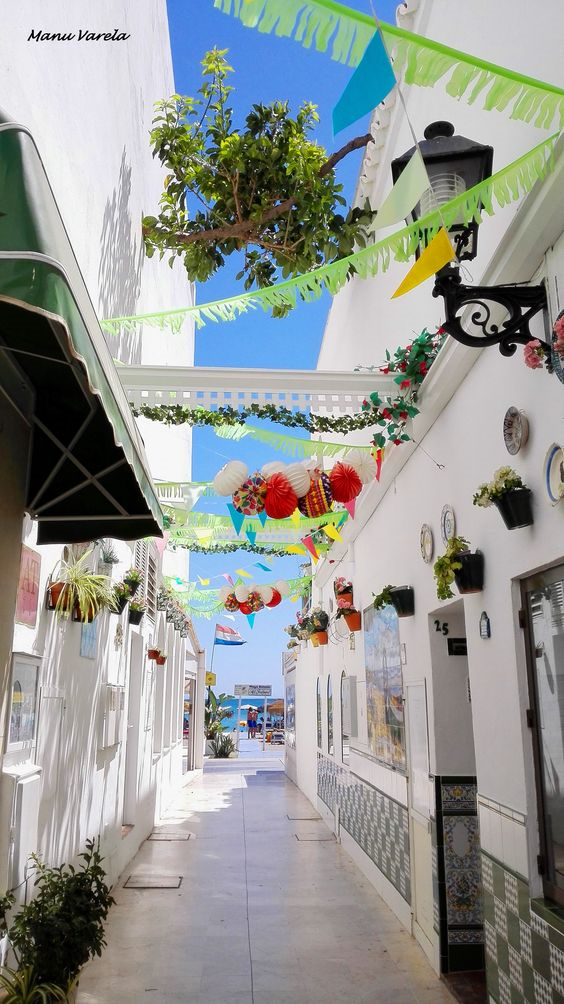 Fuengirola: This city offers more than just an Andalusian vibe, and an extensive coastline full of beaches. Fuengirola has managed to preserve several remains its inhabitants, some examples are its thermal baths, a Roman villa, or the Moorish castle of Sohail. So, if you are looking for a perfect mixture of tradition, beaches, and bustling city life, Fuengirola was made for you.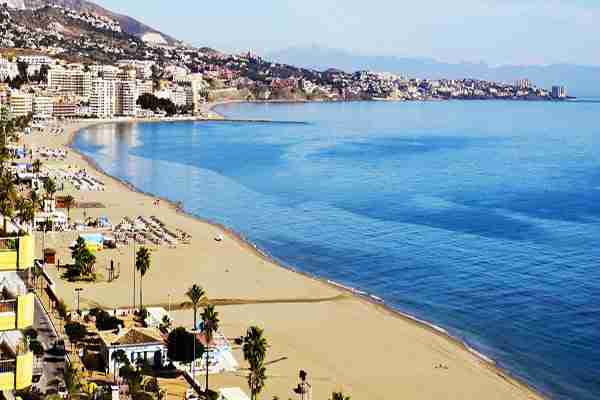 Mijas: This city is a favorite not only by the tourist but also by the locals. Located at the foot of a mountain range, it exhibits the traditional construction of an Andalusian mountain village. Here you will be unable to get bored since by just exploring the Arab layout of its city center, and the prehistoric archeological sites that surround the city you will have plenty of activities to cover.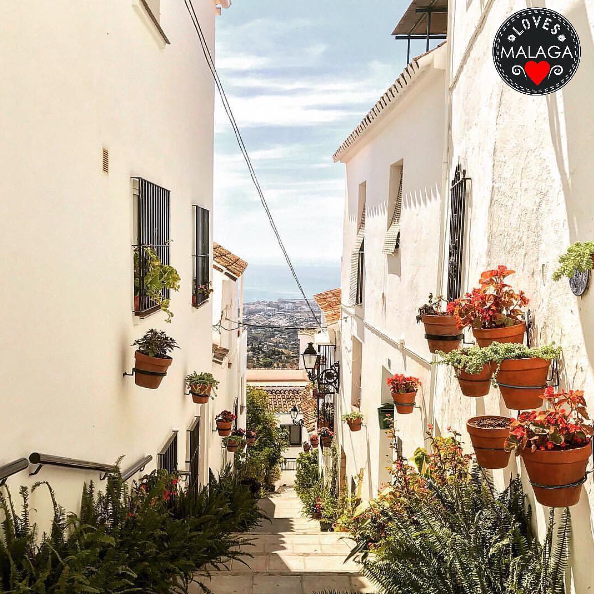 For visiting some of these cities you can always use the motorhome area of Malaga Beach as your camp base. Here you will find an area with 90 parking spots and a 16 euros fee per night and two persons.
Google Maps. GPS COORDINATES:
36.71361 / -4.31639
N 36º 42′ 49» / W 04º 18′ 59»
3. DISCOVER SEGOVIA IN MOTORHOME
Towns frozen in time, castles, and traditional architecture, Segovia will rapidly win the hearts of the ones that visit this part of Spain for the first time. By traveling through this region one will be able to explore and discover the history of Spain. Do you accept the challenge?
Segovia: What can we say about the spectacular city? The World Heritage monuments of the old town and Roman aqueduct are by themselves worth every second that you spend in this place. But if you want to truly discover this spanish gem you should visit its Romanesque churches, its cathedral, and of course the famous Alcázar from which you will able to enjoy a fantastic panoramic view of the Castilian landscape.
If you want to park and spend the night in Segovia, you can always use its free motorhome area, which has 15 parking spots and just from 15 minutes' walk to the city center.
Google Maps. GPS COORDINATES:
40.94083 / -4.10778
N 40º 56′ 27» / W 04º 06′ 28»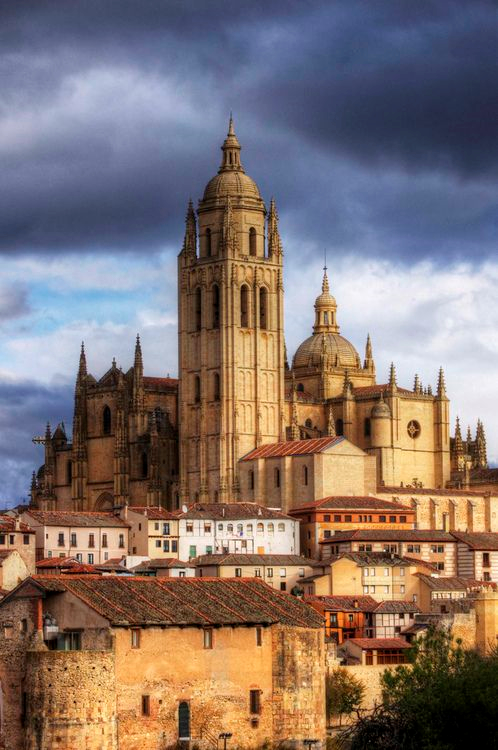 Pedraza: Surrounded by its city walls and with the mountain range of Guadarrama as a backdrop, Pedraza is considered one of the best-preserved medieval towns in Spain, and there is no wonder why. Here you will find the finest examples of medieval Castilian architecture like porticoed squares, Romanesque churches, a castle, and its famous emblazoned houses. Just by wandering through town, you will be transported to another time.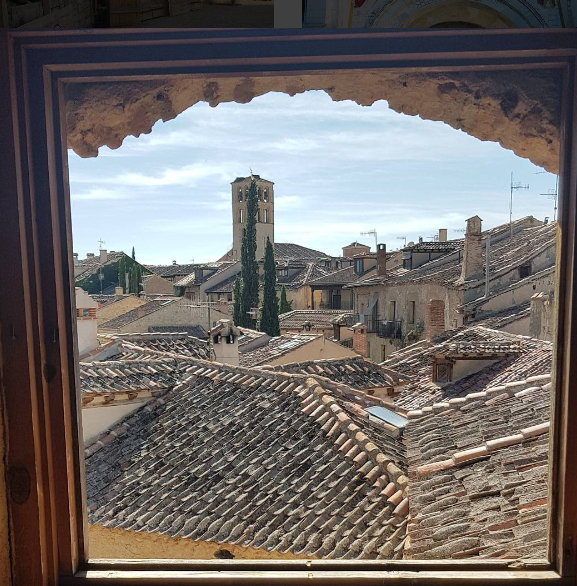 Riaza: The beautiful mountainous environment and it's well preserved traditional architecture has made of Riaza an Asset of Cultural Interest, and there is no wonder why. With its traditional "Casas Serranas", a particular main square in the shape of an ellipse, and the church of Nuestra Señora del Manto among others, make of Riaza a worthy visit.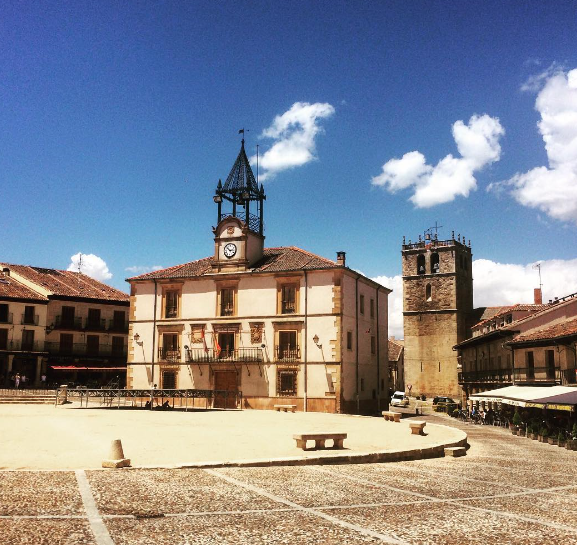 Ayllón: Located in the slope of a reddish hill, this village has been declared a Historic-Artistic site, mainly due to a large number of manorial houses. If you truly want to discover this place the best option is to take a stroll and wander through its narrow cobblestone streets.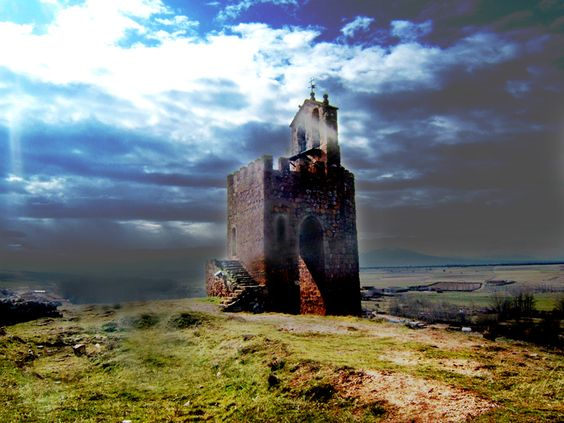 Maderuelo: Built over the meanders of the Riaza river on a long rocky spur, you will find a little hidden gem. Here the views of the spectacular Castilian landscape get mixed in perfect harmony with a well preserved historic center in which the curch-palace of San Miguel, the town gate, and the castle towers will be the highlight of your visit.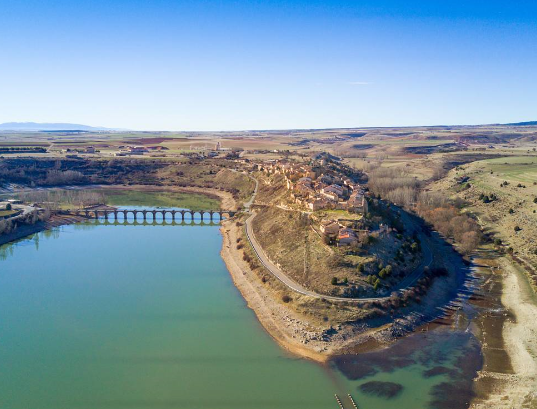 You can always use the motorhome area of Sepúlveda has a camp base for your excursions to the towns and villages mentioned above. The area has 7 parking slots and is free of use.
Google Maps. GPS COORDINATES:
41.29889 / -3.74528
N 41º 17′ 56» / W 03º 44′ 43»
Castilla, Catalonia, and Andalusia, with just this 3 routes you will be able to say that you know the spanish geography as the palm of your hand. As always remember to enjoy and drive safely.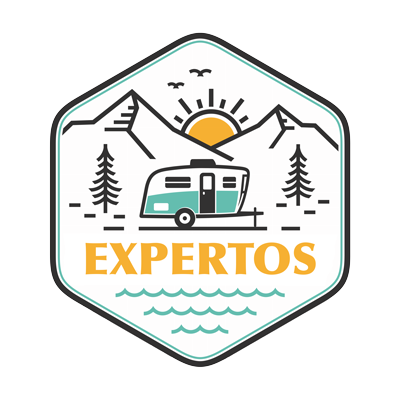 Has llegado a Vicente Velasco correduría de Seguros, especialistas en seguros de autocaravanas, caravanas o campers desde hace más de 20 años.
Trabajamos con las mejores compañías para dar los mejores precios y coberturas que más se adaptan a ti.