This year Valentine's day is going to be a little bit different. However, this is not an excuse to not celebrate the day. So, if you are looking for a little getaway to enjoy with your loved one, then keep reading because today we bring you 10 spots to enjoy the day with your valentine in your motorhome. Are you ready?
San Nicolás viewpoint (Granada)
If you are near Granada and you want to surprise your valentine, the viewpoint of San Nicolás is the perfect spot, especially during sunset. On the top of the neighbourhood of Albaicín, you can find this fantastic stone balcony with one of the best views of the Alhambra.
If you want to spend the night here, we recommend visiting the Sierra Nevada motorhome area.
GPS COORDINATES:
37.09861 / -3.39306
N 37º 5′ 55» / W 3º 23′ 35»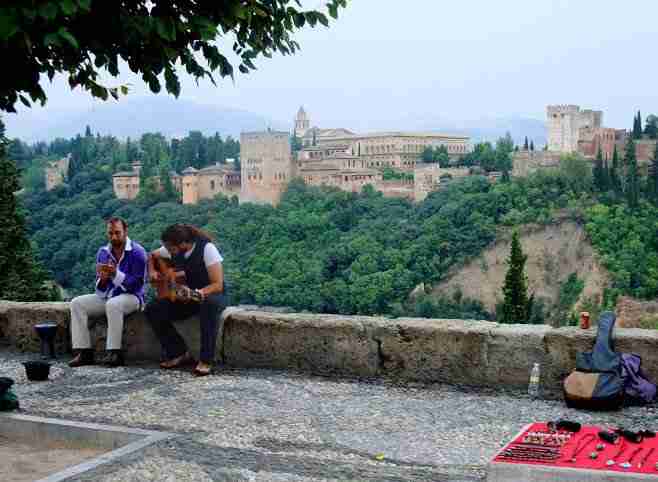 Lagos de Covadonga (Asturias)
If you are looking for some outdoor activities while enjoying incredible landscapes Covadonga's lakes are the perfect alternative. By staying in the motorhome area of El Llerau in Cangas de Onís, you will be able to combine the amazing views that this part of the Asturian mountains offers with some of its best gastronomy, and traditions.
GPS COORDINATES:
43.35194 / -5.12528
N 43º 21′ 7» / W 5º 7′ 31»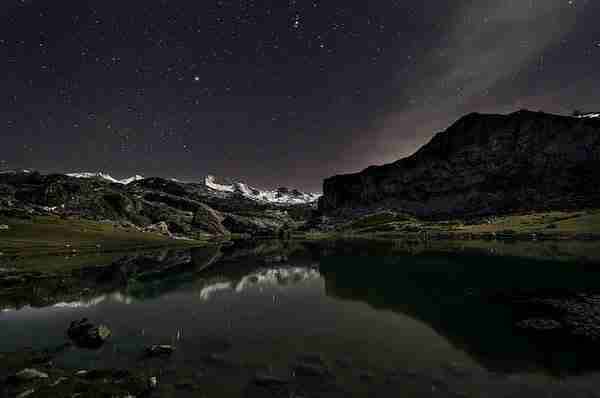 Debod's Temple (Madrid)
Going to a restaurant or to the movies to celebrate a special day is okay. But today we propose you to visit Egypt without leaving Madrid. By visiting Debod's Temple you will be immediately transported to another time and place. So, if you are in the area and want to fantasize about being able to travel, and discover exciting cultures, and places Debod's Temple is the perfect option for a romantic evening.
GPS COORDINATES:
40.31417 / -3.86778
N 40º 18′ 51» / W 3º 52′ 4»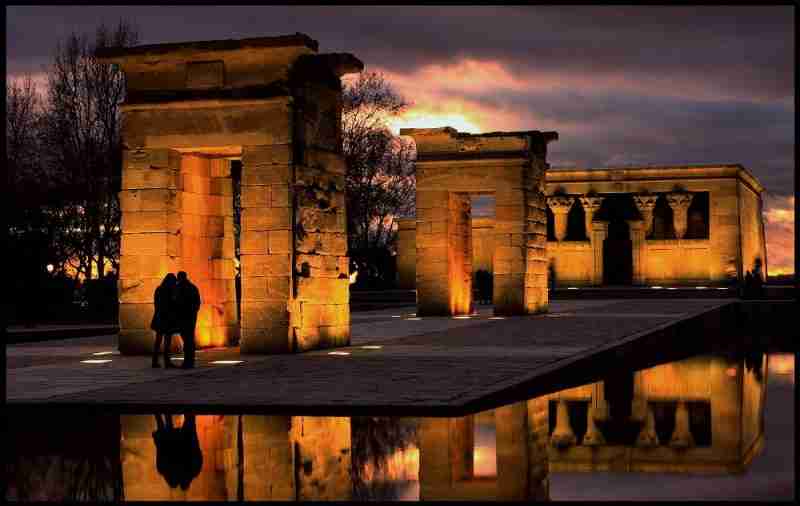 The garden in the square of Santa Cruz (Sevilla)
If you are looking for a date on which you can experience the blend of cultures and traditions that Spain has to offer, then the old Jewish quarter of Sevilla is perfect. We particularly recommend the little garden that is located in the square of La Santa Cruz. In here you will not only be surrounded by orange trees but also, you will have the possibility of going to one of the shows that the "tablao flamenco Los Gallos" offers.
GPS COORDINATES:
37.36667 / -5.9975
N 37º 22′ 0» / W 5º 59′ 51»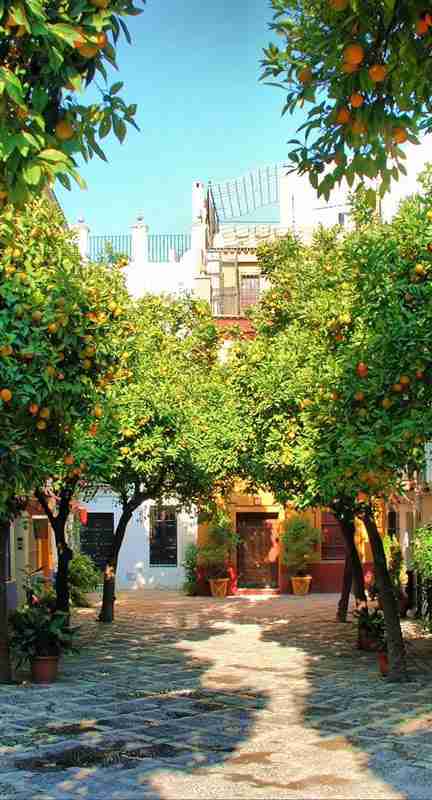 Teruel
Have you ever heard of "Los Amantes de Teruel"? The Lovers of Teruel is a romance story that allegedly took place in 1927 in the city of Teruel, and tells the story of two lovers who were separated by a tragic fate. Even though this truly a sad legend, the city of Teruel with its blend of Mudejar architecture, traditional gastronomy, calmness, offers the perfect scenery for enjoying a special date.
For visiting Teruel we recommend spending the night in the parking of the police station which is free of use.
GPS COORDINATES:
40.33194 / -1.09278
N 40º 19′ 55» / W 1º 5′ 34»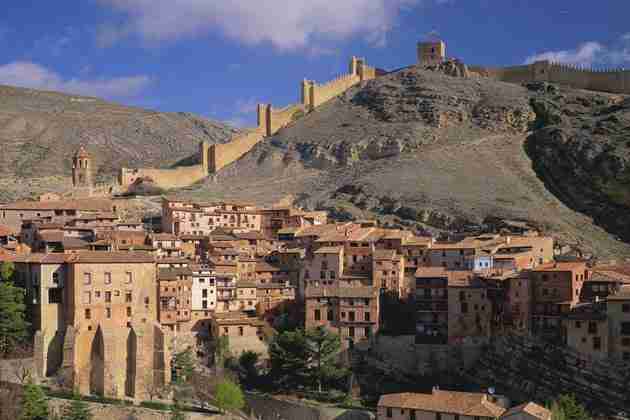 Park Güell (Barcelona)
There is no doubt that Barcelona will not be the same city without Gaudi. So, if you want to pay tribute to this Spanish architect while enjoying some of the best views of Barcelona, there is no better place than Park Güell.
One of the options for visiting Barcelona with your motorhome is the parking of the Pueblo Español, which has a fee of 30 € per night, and 24h surveillance.
GPS COORDINATES:
41.3674 / 2.14675
N 41º 22′ 2,65» / E 2º 8′ 48,3»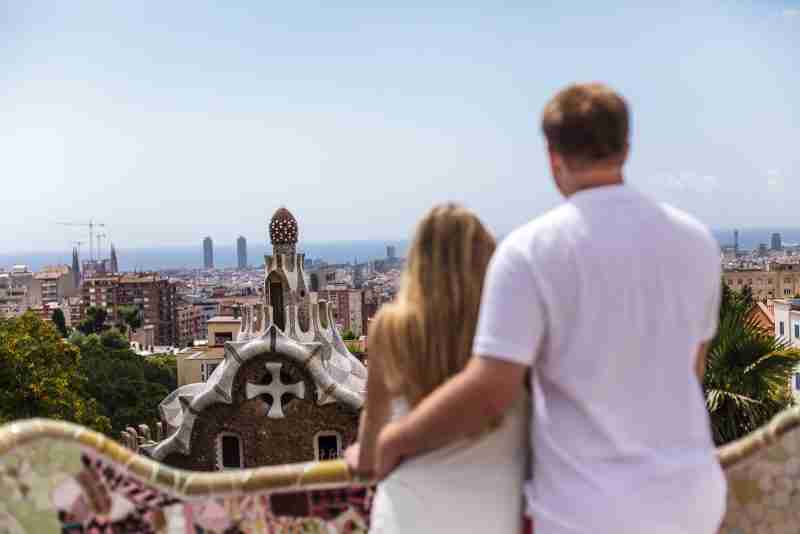 Cerro del Socorro viewpoint (Cuenca)
Cuenca is one of those cities that leave a profound impression on its visitors. In here nature and traditional architecture get together creating a city that has been named a World Heritage Site by UNESCO since 1996.
For visiting the city, you can make use of the auditorium park, the best thing is that is located in the middle of the historic town of Cuenca.
GPS COORDINATES:
40.07639 / -2.12917
N 40º 4′ 35» / W 2º 7′ 45»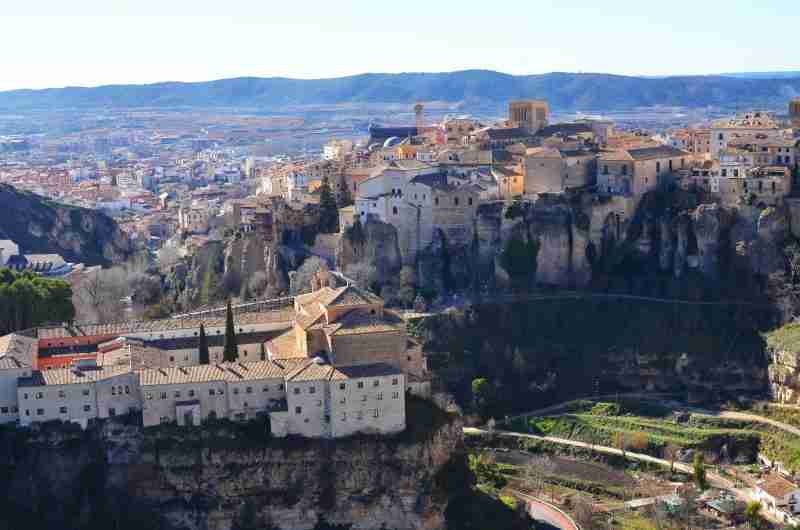 CaliSto and Melibea's garden (Salamanca)
If early in the post we talked about Los Amantes de Teruel, it is only fitting to end today's list with another Spanish love story. In this case, we are talking about the tragicomedy of Calisto and Melibea which is Spain is known as La Celestina. The incredible conservation state of the city of Salamanca, allows us to visit the old garden in which according to the story the two lovers forged their love story. So, what a better way on spending Valentine's day than here.
The city of Salamanca has several areas to spend the night in. however, we recommend the parking of la Santísima Trinidad, which has a total of 6 parking spots, is free and has amazing views of the city.
GPS COORDINATES:
40.95472 / -5.66778
N 40º 57′ 17» / W 5º 40′ 4»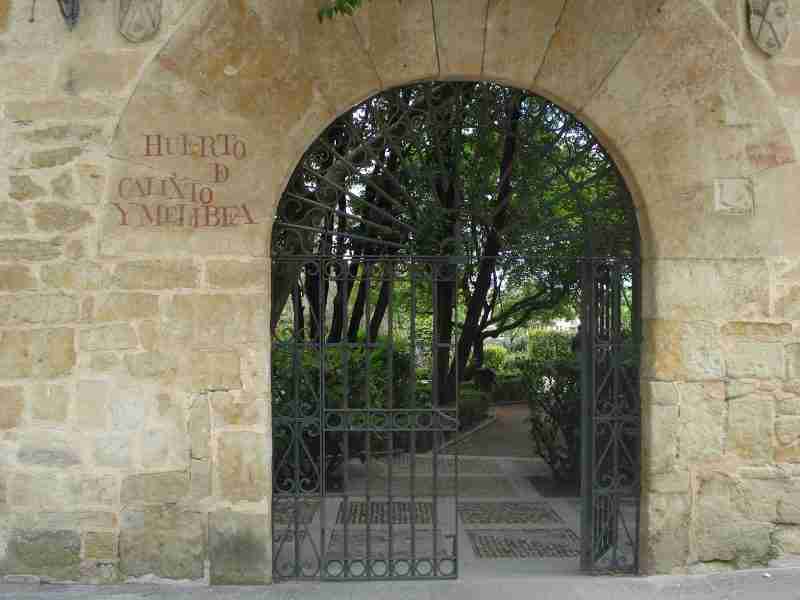 As you can see Spain is full of little places in which either the love stories of the past or the incredible architecture of the place, will make that you spend a Valentine's Day full of love. However, if due to the current mobility restrictions you are unavailable to visit these locations, you can always save them for the next special occasion. Finally, Vicente Velasco Insurance Brokerage we always want to know your thoughts on the matter, so let us know your comments or recommendation. Until the next post, enjoy your Valentine's Day and stay safe!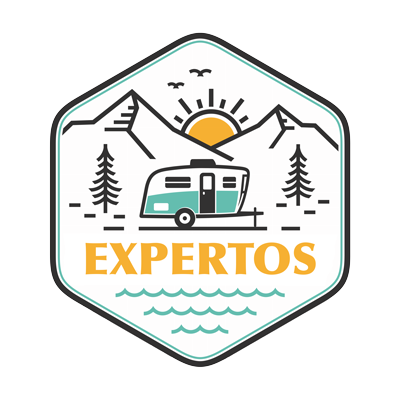 Has llegado a Vicente Velasco correduría de Seguros, especialistas en seguros de autocaravanas, caravanas o campers desde hace más de 20 años.
Trabajamos con las mejores compañías para dar los mejores precios y coberturas que más se adaptan a ti.