Winter is already here, and what a better plan the enjoy this time of the year with than a little excursion to some of the most magical towns in Spain. If you want to have fun during this Christmas start packing because we have a lot to cover.
O Cebreiro is one of the milestones for all the pilgrims who made the French Camino de Santiago. So, don't be surprised if when visiting this village located at more than 1,300 meters of altitude you fall in love with its beauty. Additionally, O Cebreiro is the perfect spot for trying the traditional "Caldo Gallego" during the winter months.
The visitor will be able to stay the night at the motorhome area of As Nogais, which is only situated 15 minutes away, has 6 parking spots, and is free of use. Moreover, while making use of the area you could visit the castle of Torre de Doncos and the pre romanesque church of San Andrés.
GPS COORDINATES:
42.81028   /   -7.10722
N 42º 48′ 37» / W 7º 6′ 26»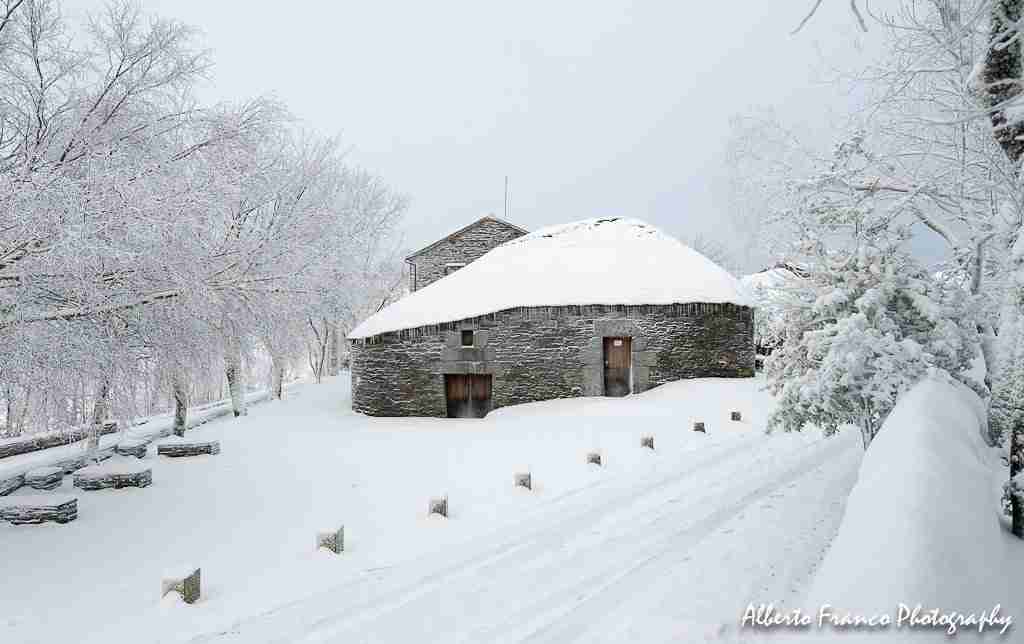 Santillana del Mar in our opinion is one of the most beautiful towns in Spain, since 1989 has been declared a historical-artistic complex, and just by walking through its cobbled streets the visitor will understand why. We believe that the best way to discover this village is just by visiting its museums and little shops. Also, you cannot leave Santillana del Mar without trying its Picón cheese and Ciervo meat.
A good option for visiting the area is making use of the motorhome area of Valle del Nansa which has a total of 8 parking spots. Additionally, you should know that the first 24 hours are free and that the price of the water change is 3 €. Moreover, and if you have some extra time, we highly recommend the caves of El Soplao and the Natural Reservoir of Saja-Nansa.
GPS COORDINATES:
43.23333   /   -4.39806
N 43º 13′ 60» / W 4º 23′ 53»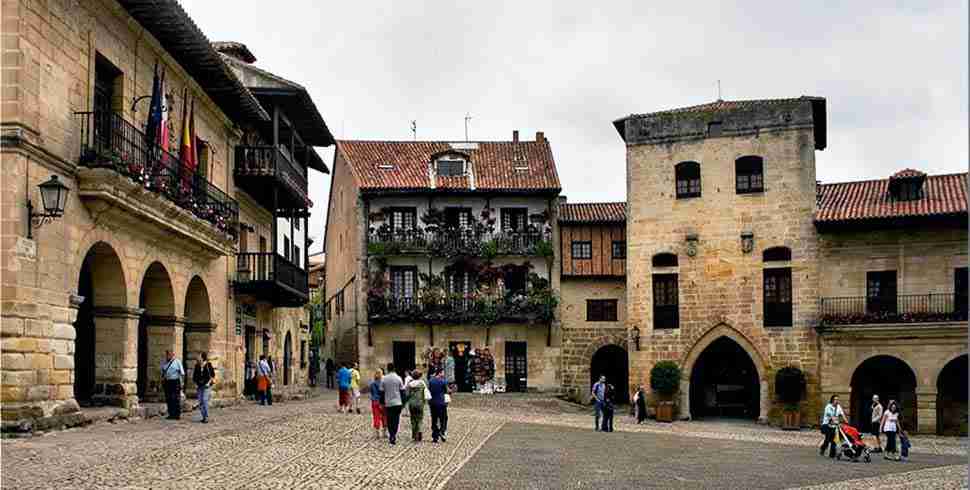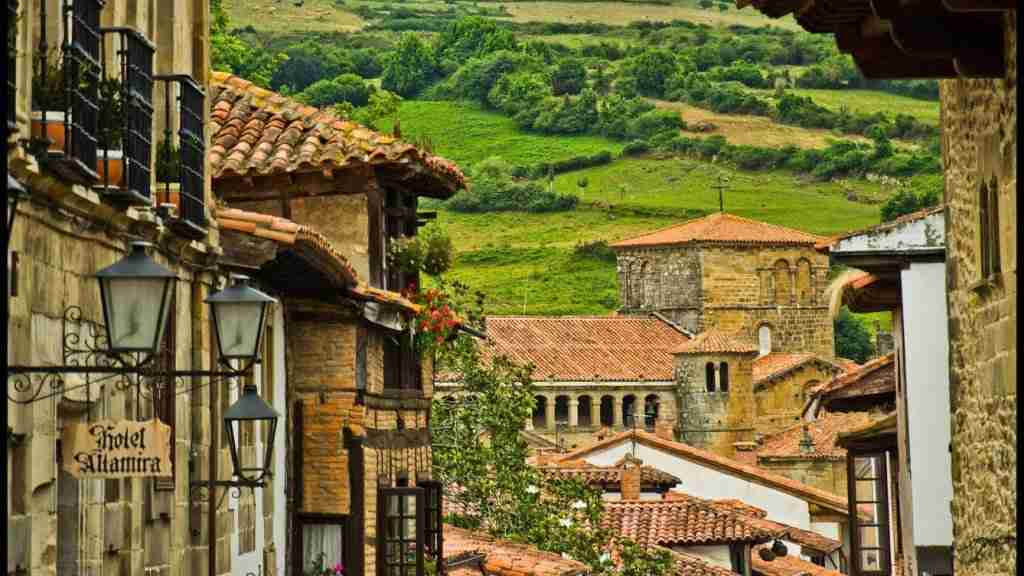 Have you ever heard of "La Selva de Irati"? If not then you are in for a treat because if you decide to visit Ochagavía, you will find one of the largest beech reserves in Europe. However, Ochagavía has much more to offer, this town will conquer your heart with its mixture of traditional stone houses and medieval palaces. In conclusion, if you were looking for the perfect blend of nature and traditional architecture this place was made for you.
For enjoying an overnight stay with your motorhome you can make use of the motorhome parking space in Ochagavía which has a total of 12 spots and is free of use.
GPS COORDINATES:
43.00917   /   -1.31889
N 43º 0′ 33» / W 1º 19′ 8»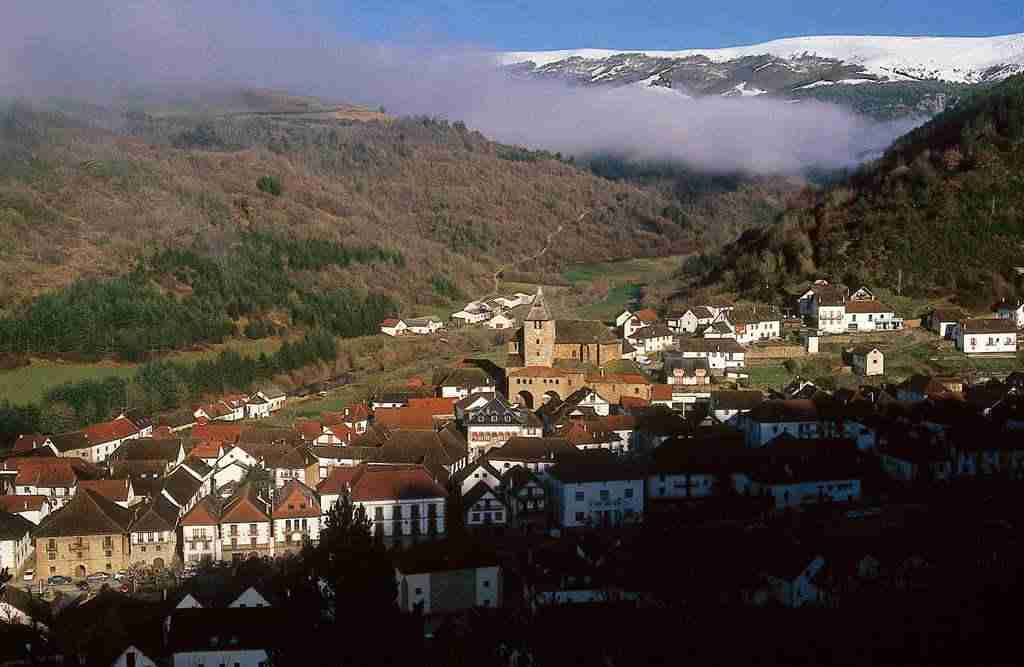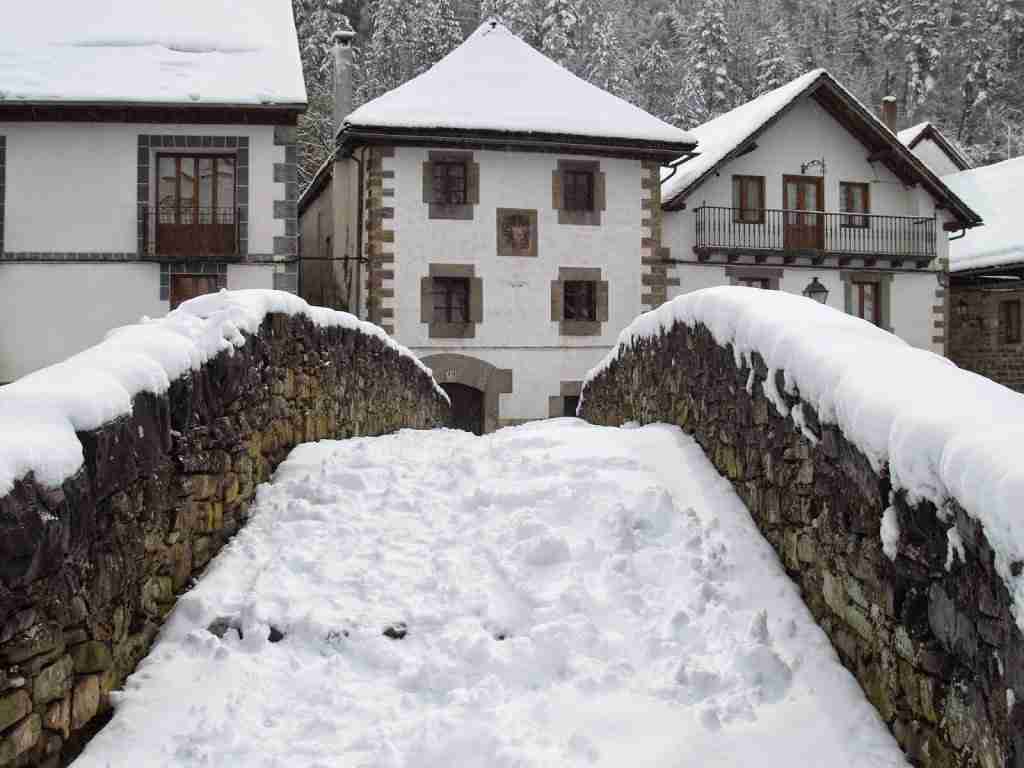 This little town in the Garrocha region is one of the finest examples of medieval ensembles in the entire country. So, if you have the opportunity make sure you enjoy everything it has to offer. We cannot recommend enough visiting its castle, the old stone bridge, the monastery, the old pilgrim hospital, and the Jewish baths among others.
The motorhome area of El Llac is the perfect option for those of you who want to discover Besalú. Their fees are 10 € per overnight stay and motorhome, and the water change is 2 €.
GPS COORDINATES:
42.12056   /   2.74722
N 42º 7′ 14» / E 2º 44′ 50»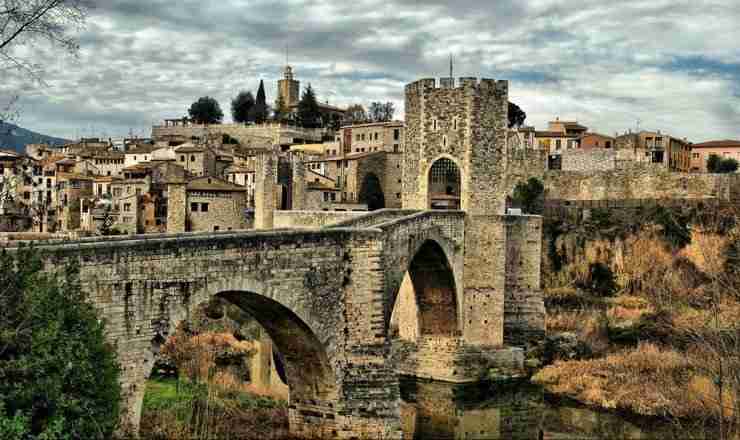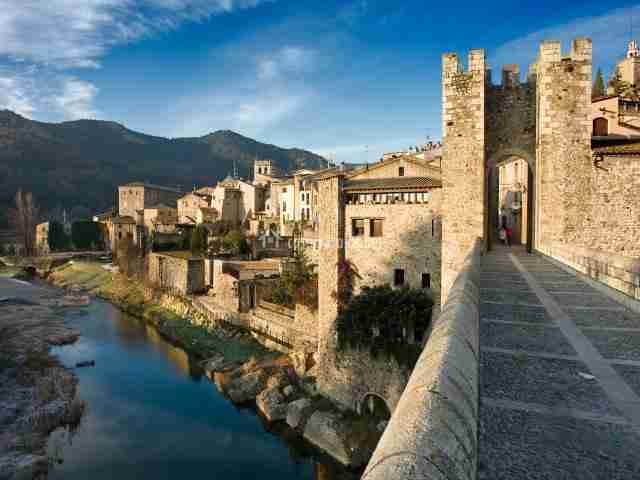 If you have never visited Albarracín I don't know what are you waiting for. This little town in Teruel has been declared a National Monument for more than 50 years, and just by walking around its streets, you will know why. Get lost in its medieval streets, visit its city walls, cathedral, and castle. Lastly and to finish your tour try its famous jamón serrano. In conclusion, if you are close and have some free time, Albarracín offers a unique blend of architecture, tradition, and gastronomy that will not disappoint you.
If you want to stay the night you can make use of the free motorhome area of Teruel, and it's only about 2 kilometers away from the city center.
GPS COORDINATES:
40.33194   /   -1.09278
N 40º 19′ 55» / W 1º 5′ 34»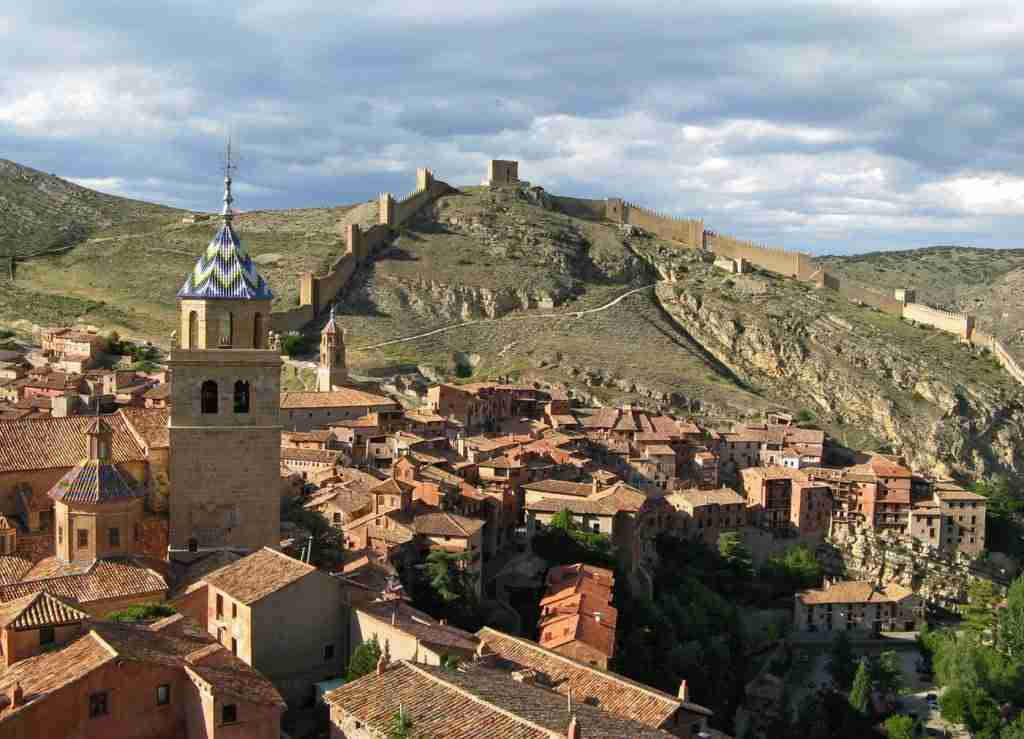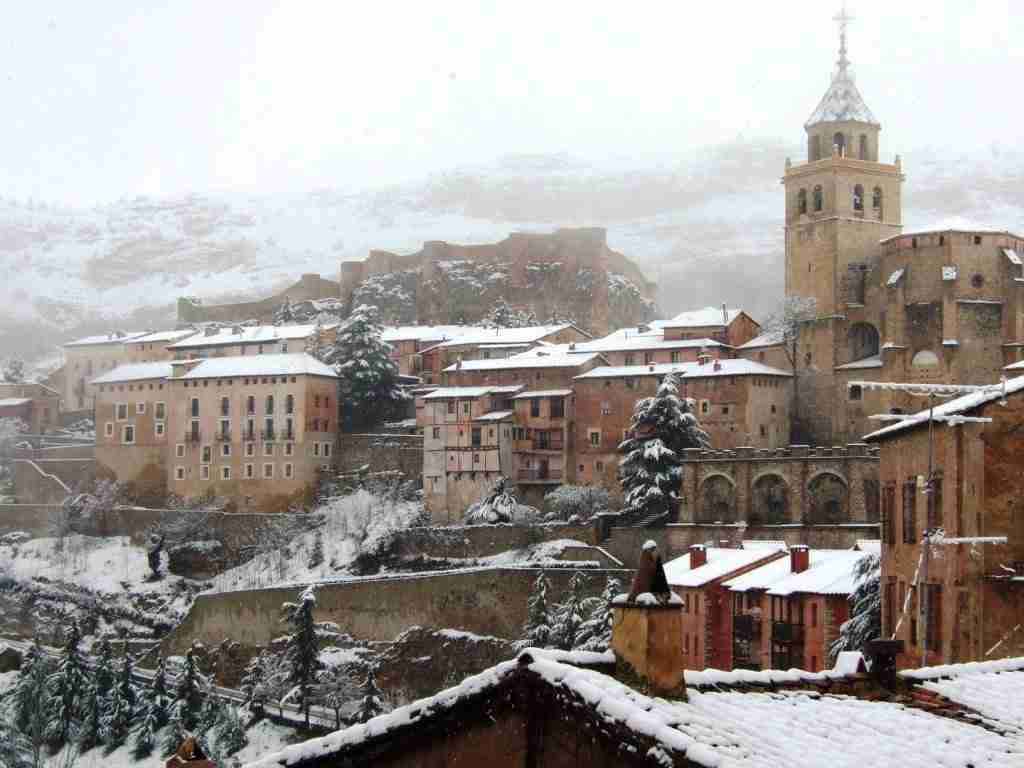 Did you know that Trujillo is the birthplace of some of the most important discoverers in Spanish history? However, and despite the birthplace of Orellana, and Pizarro, Trujillo has much more to offer. For starters, we recommend that you kick off your visit on the Plaza Mayor, so later move on and visit the castle, the palace of Juan Pizarro de Orellana, the Casa Fuerte de Los Chaves el Viejo, and the churches of San Martín and Santa María la Mayor. Additionally, if you want to have an alternative experience you should try some of its traditional cheeses, wines, and of course jamón serrano.
For visiting Trujillo, we recommend staying at the Cáceres motorhome area (approximately 30 minutes away), which is free of use and has a total of 10 parking spots. Nevertheless, you should be aware that the area closes its doors for vehicular access during night time (from 22:00 until 8:00). Additionally, this area is perfect not only for visiting Trujillo, but also to discover the historic center of Cáceres, which has been declared as a World Heritage Site.
GPS COORDINATES:
39.48056   /   -6.36694
N 39º 28′ 50» / W 6º 22′ 1»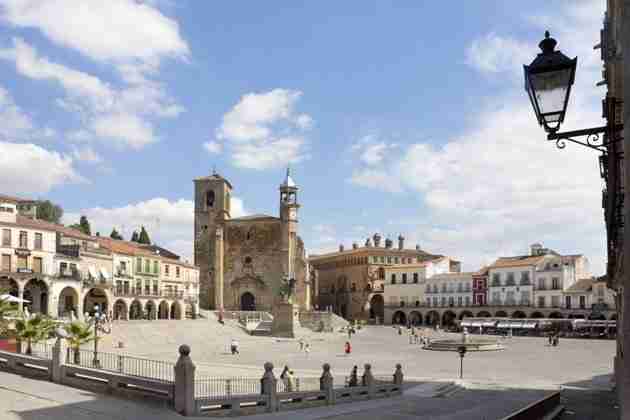 Miranda del Castañar (Salamanca)
If you visit Sierra de Francia, you will find a little town that is crowned by a spectacular castle. Miranda del Castañar is a village full of charm, that immediately will transport you to another time. Its cobbled and narrow streets, its traditional Stone houses, and the serenity of this place makes it the perfect winter getaway, for those of you who need a much need break.
The motorhome area of Alberca is a great option, since it's only a 30 minutes' drive from Miranda del Castañar, has a total of 10 spots, and it's free.
GPS COORDINATES:
40.48833   /   -6.11583
N 40º 29′ 18» / W 6º 6′ 57»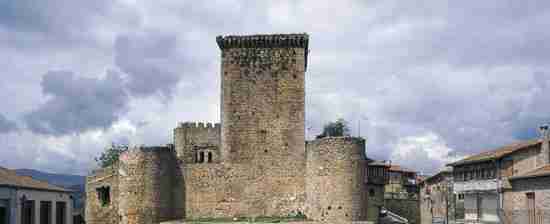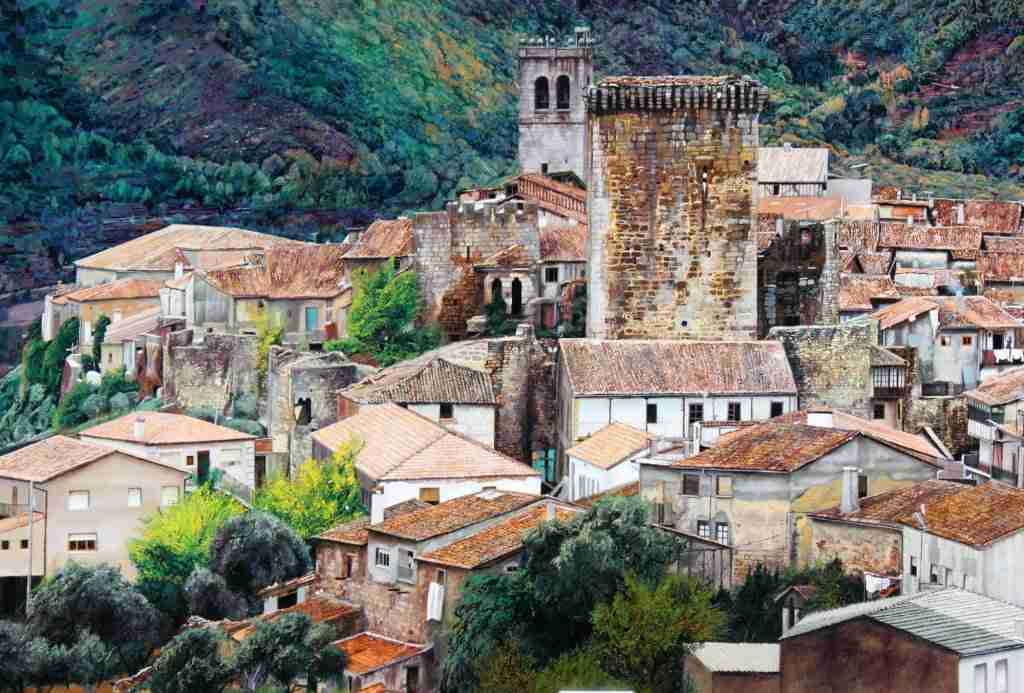 As you have seen throughout the post Spain has a multitude of beautiful villages and town to enjoy not only during the summer months, but also in winter. So, what a better time to enjoy your home on wheels than Christmas. As always in Vicente Velasco Insurance Brokerage we love to know your thoughts on todays 7 villages, so let us a comment!