Semana Santa, Feria de Abril, Orange trees, and a pleasant temperature. For these and many more reasons April is a fantastic month to discover the little towns and villages of the region of Andalucía. That is why we want you to recommend a series of towns to visit with our motorhomes throughout April. Do you want to join us?
To kick start our journey we have decided to recommend the lovely village of Niebla, which in Spanish means fog. However, do not be fooled by its name, because this little town has a wonderful climate all year round. One of the highlights of this millennial city is the perfectly preserved city walls, which enclose the most important monuments of the local history. Among them we cannot recommend enough the visit to "El Alcázar de los Condes de Niebla", and the churches of Santa María de la Granada, and San Martín. Additionally, if you have time outside the walled enclosure the visitor can find a Roman aqueduct and bridge.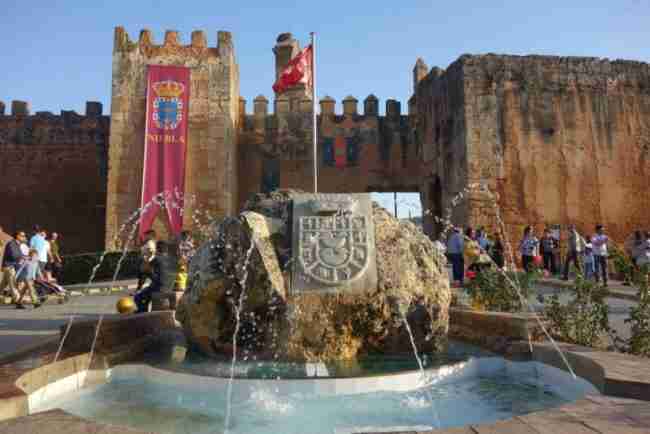 The next stop in our journey is in the town of Sanlúcar de Guadiana, a little village located on the banks of the Guadiana river. This place is perfect for nature lovers due to the beauty of its surroundings. Among its monuments, we highlight the castle of San Marcos, since it offers an excellent panoramic of the town and the river.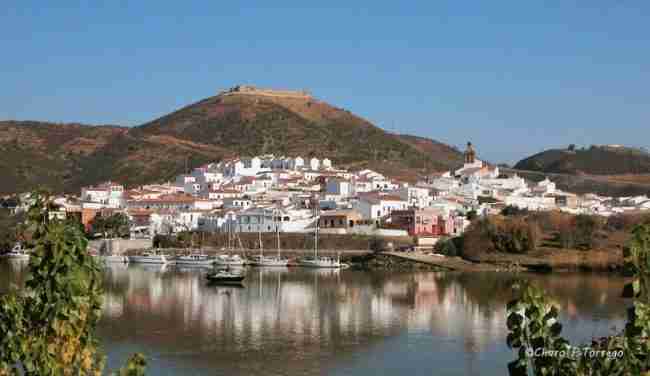 The best thing about starting the journey with these two towns is the fact that they are located less than an hour and a half from each other, making it perfect to kill two birds with one stone. The best way of doing so is by using the local motorhome area of Sanlúcar de Guadiana (which has a total of 15 parking spots and is free of use) as a base and then make a little day trip to Niebla.
GPS COORDINATES: N 37º 28′ 12″ / W 07º 27′ 51″
Moving on we have the lovely town of Almodóvar del Río which is located in the Natural Park of Sierra de Hornachuelos, the biggest natural protected space of the province. So, as you can imagine this place is going to offer a rich variety of outdoor activities. Additionally, the town is incredibly well preserved, and the visit to its castle (film location of Game of Thrones) is a total must.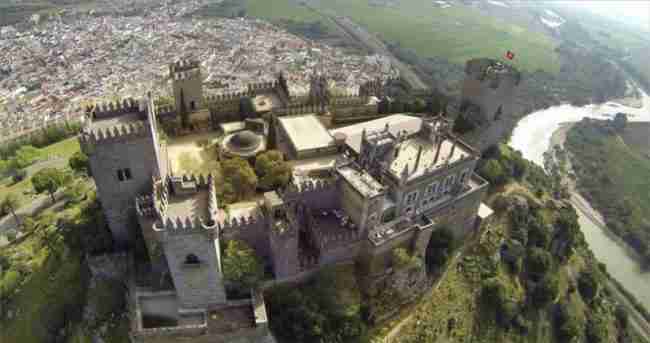 For visiting Almodóbar del Río you can make use of the parking area in Córdoba which has a total of 100 parking spots, and an overnight fee of 17.95€.
GPS COORDINATES: N 37º 52′ 28,4» / W 04º 47′ 12»
Another great alternative is the parking area located in El Higueron (only 20 min away). In here you will find a parking which has a total of 10 spots, and overnight fee of 6 €
GPS COORDINATES: N 37º 52′ 15» / W 04º 51′ 17»
Located on the Natural Park of Sierra Subbética, we find the city of Priego, one of the most manorial and enchanting cities in the province. Once the visitor sets foot in this little town, it will become aware of how the water is integrated into every little corner of the city. Putting aside this particularity we recommend visiting the Del Rey fountain, the churches of Las Angustias and San Pedro, as well as the convents of San Francisco and San Juan de Dios. Additionally, and if you have time the 13th-century Arab fortress or the Almond museum is worth the visit.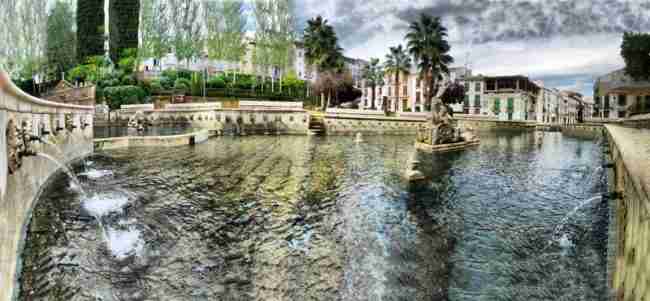 Priego has a free motorhome area, with a total of 10 parking spots, and located next to a park.
GPS COORDINATES: N 37º 26′ 37" / W 04º 12′ 43"
Moving from the province of Córdoba to the province of Granada our next stop will lead us to the stunning town of Montefrío. When visiting Montefrío, the first thing that stands out is the Arab fortress and Church that stands proud on top of the city's crag. From here the visitor can appreciate a view that according to National Geographic is one of the bests in the world. So, if you finally decide to visit the city we recommend going for one of the numerous hike paths that this locality offers, as well as visiting the old cemetery, the churches of La Encarnación, and the convent of San Antonio.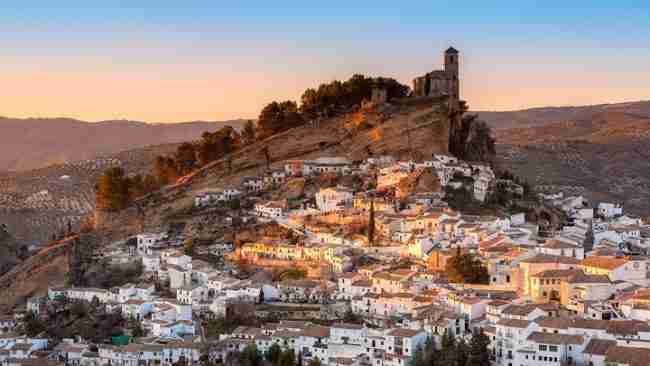 If you want to visiti Montefrío you can stay in Granada capital in the area of Greysepark-Los Cármenes which has a fee of 18 € per day, and a total of 30 spots.
GPS COORDINATES: N 37º 09′ 03» / W 03º 35′ 46»
Or make use of the are in Huétor-Tajar which is closer to Montefrío, has 10 parking spots and the water change for the petrol -station customers is free.
GPS COORDINATES: N 37º 11′ 10» / W 04º 02′ 23»
The last stop on today's journey is in Frigiliana. A town that offers one of the best views in the whole of Costa del Sol. So to start the day we recommend going to the Square of las Tres Culturas, a place where the well-known Balcony of the Mediterranean can be found. However, in our opinion, the best way of discovering this town is by just wandering throughout its streets.
If you want to discover Frigiliana a good option is the motorhome are of Nerja, which has a total of 10 parking spots and an overnight rate of 3€.
GPS COORDINATES: N 36º 45′ 43» / W 03º 53′ 16»
We hope you enjoyed this little tour, and if do not worry if you want to keep exploring Andalucía because we have prepared tours. So, by the end of the series, you are going to become a total expert. So, keep posted for the next updates and if you have any comments or recommendations in Vicente Velasco Insurance Brokerage, we will like to hear about them, so LEAVE US A COMMENT!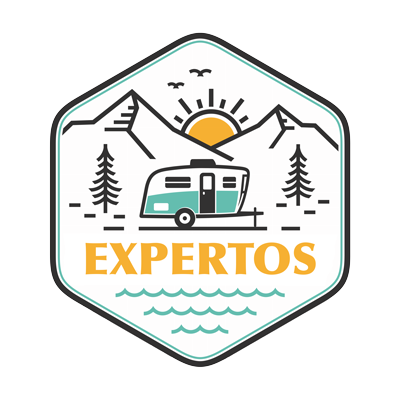 Has llegado a Vicente Velasco correduría de Seguros, especialistas en seguros de autocaravanas, caravanas o campers desde hace más de 20 años.
Trabajamos con las mejores compañías para dar los mejores precios y coberturas que más se adaptan a ti.
Etiquetas: motorhome route almodovar del rio, motorhome route Andalucia, motorhome route cordoba, motorhome route frigiliana, motorhome route granada, motorhome route huelva, motorhome route malaga, motorhome route montefrio, motorhome route niebla, motorhome route priego de cordoba, motorhome route sanlucar de guadiana