Finally, the time of the year in which we tell you what are the best campsites of 2020 has arrived. Today, and thanks to the Top Campings and Superplatz awards delivered by the ANWN and ADAC associations delivered this past January. We are able to bring you Part 1 of the TOP SPANISH CAMPINGS OF 2020. These awards are intended to recognize the professionalism and quality of the services offered in these establishments, and of course, Spanish campsites have once again been among the best. So if you want to know which ones a the best of the best, KEEP READING!
Its 4 locations distributed throughout Tarragona and Alicante, offer their clients a wide range of services, accommodation options, and activities.
Guardamar Alannia:  38° 06′ 36» N – 0° 39′ 18» W
Costa Blanca Alannia: 38° 10′ 44″ N – 0° 48′ 30″ W
Els Prats Alannia:  39° 28′ 37.1″ N – 0° 21′ 58.351″ W
Costa Dorada Alannia: 41° 7′ 00.12″ N – 1° 15′ 0″ W
The camping Emporda en L'Estartir is already a regular on our lists. So, it was not a surprise when this year it was recognized as the best family camping in Europe outside the Netherlands. On a side note, the campsite is currently closed and it is expected to reopen on the 27th of March. Additionally, they currently have a free cancellation policy for both their bungalows and plots.
GPS COORDINATES: 42º 3′ 1″ N – 3º 10′ 59.8″ E
Right on the shore of the Costa de Azahar, at only 3 km away from Oropesa del Mar. This family campsite offers all the commodities that one can imagine, as well as a wonderful animation program perfect for the little ones of the family.
GPS COORDINATES: 40º 7′ 40» N – 0º 9′ 32» E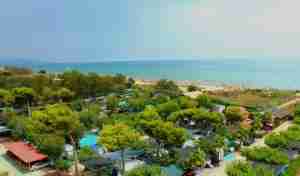 The fourth spot in our list is located extremely close to the beach as well as to the magnificent Roman city of Tarragona. Its perfect location creates the perfect blend of relaxation, history, architecture, and tourism that will make the delights of its customers.
GPS COORDINATES: 41º 2′ 0» N – 0º 58′ 4» E
Camping La Torre del Sol of course is not going to be less than the rest of the camping's mentioned in this list. So, its customers can expect the highest standards in all the services offered. Additionally, and due to the COVID-19, they have a free cancellation policy.
GPS CORRDINATES: 41º 2′ 14′ N – 0º 58′ 28» E
If you are looking for a camping in which the highest standards are met over and over again, you can stop looking. Because Camping & Resort Sangulí Salou has been revalidating the Superplätze Top Campings award since the late 1990s, which in our opinion is one of the best ways of proving the quality of its services.
GPS COORDINATES: 41º 4′ 31» N – 1º 7′ 2.6» E
With a perfect mixture of gastronomy, location, sports facilities, and entertainment, the bungalows and pitches of this camping will make you never want to leave this place. So what better way of enjoying Spanish weather than in a camping that celebrates 60 years of experience.
GPS COORDINATES: 41º 7′ 56» N – 1º 21′ 37» E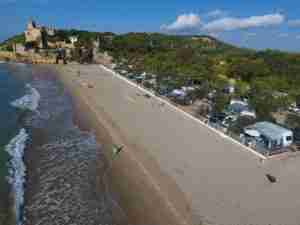 If you want to enjoy the Mediterranean sea while having some fun with your family, Camping Stel Roda de Barà was tailor-made for you. Its multiple options of accommodation, as well as a perfectly curated list of entertainment for everyone, will for sure make you have the time of your life. Additionally, if you are still wondering about the quality of the camping, let us tell you that this is not the first year that the camping receives the ANWB award.
GPS COORDINATES: 41º 10′ 11» N – 1º 27′ 51» E
Once again, this camping has already appeared in one of our lists before, so what else what can we say. So, if you want to know what all the fuss is about, you better check it for yourself.
GPS COORDINATES: 42º 2′ 33» N – 3º 11′ 0.6» E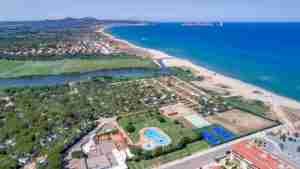 We have decided to finish this first part of the TOP CAMPINGS OF 2020 with a strong contender, and let us remind you why. Location (check), facilities (check), activities (check) and, services (check). As you can see this camping offers all the possibilities. So if you are contemplating spending your holidays in the Mediterranean Costa Brava, La Ballena Alegre camping is a really good option.
GPS COORDINATES: 42º 9′ 8» N – 3º 6′ 42» E
In conclusion, if you are looking for your next camping in Spain, you might want to check this list.  Since all of them have consistently shown the quality of their services and facilities. However, if you haven't find the one keep posted because in our next blog we are finishing the list with the remaining top campings of 2020. Additionally, if you are looking for routes, and trips to do while you are staying at one of these campsites go check our blog post, because we have dozens of options.